Injection SmCo Compound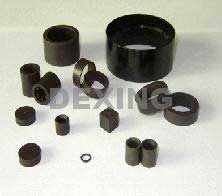 SmCo injection pellets are composite, which are kneaded with mixture of thermoplastic resins (PA12, PA6, PPS) and SmCo (2:17) magnetic powders made from BGRIMM MAGMAT.  High property anisotropic SmCo bonded magnets can be manufactured through injection molding under magnetic field.
SmCo bonded magnets have good thermal stability, corrosiveness resistance and better toughness than sintered SmCo magnets. It has been widely used in multiple-pole ring for Micro-motor, instrument and apparatus, sensors and so on.
Technical Parameters of Injection SmCo Compound:
Magnetic Properties

Injection compound with PA6/PA12

Withy PPS

Parameters

Unit

DXSM-6

DXSM-7

DXSM-8

DXSM-9

DXSM-65

Br

Gs

5150

5450

6000

6320

5130

bHc

Oe

4850

5070

5200

5590

4790

jHc

Oe

>8000

>8000

>8000

>8000

>8000

(BH)max

MGOe

6.6

7.4

8.3

9.7

6.5

Density

g/cm3

5.0~6.2

5.0~6.2

5.0~6.2

5.0~6.2

5.0~6.2

MFR270℃

g/10min

≥140

≥140

≥140

≥140

≥10